This post is also available in: Italiano
Red hair in a man is a really sexy feature…and it is a rarity: only about 0.5% of the world's population in fact has this peculiarity. We're talking, of course, about natural red hair…just like mom made it!
Redheads usually have a particular taste in clothing. Perhaps because they remind us of the gentlemen of yesteryear.
Red hair is a real highlight in a man's look, although you need to be a little careful with the combinations.
Here are what colors to avoid and what colors to prefer. Also, a practical guide to buying the right tie and pocket square for different outfits.
Colors to avoid
Pale light colors and acidic tones are not recommended.
If you have red hair, it's easy that you also have bleach pink skin: well, you need to create a contrast with the fabrics and colors you use, which allows your natural light coloring, rather, to shine and attract attention.
The worst thing you can do is fade your color profile further by wearing hues and shades that are too similar to your shade.
A gentlemen with red/copper hair, therefore, should avoid light and colorless fabrics, such as light gray, off-white, cream or light khaki, and citrus colors of any kind, such as orange, red, yellow, etc.
Even the choice of accessories cannot be left to chance.
The most suitable colors
Dark green outfit
An outfit in dark green would be said to be the color that best suits red hair and fair complexion, especially if you have green eyes, like the model in the photo above.
A dark saturated green will offset the profile-color of your skin and hair and draw attention directly to your face and eyes.
In the case above, three different shades of green were used: the emerald green suit, the mint green striped oxford shirt, and the forest green raw silk tie.
Dark green is on the opposite side of the color wheel of the shades of those with red hair, which is a good rule of thumb for finding a tasteful contrast.
The white pocket square inside the jacket pocket will create the right harmony to the whole.
Blue outfit
Once again, going back to the criterion of the opposite color wheel, blue is directly opposite orange, which means that it is definitely a winning choice among the combinations to be adopted.
Blue outfits are incredibly versatile and can be worn in all seasons. I recommend that the blue used by the dress and shirt are in the right contrast to each other.
Blue, allover, or solid color ties are perfect. A contrasting blue patterned pocket square closes the outfit beautifully.
Dark brown outfit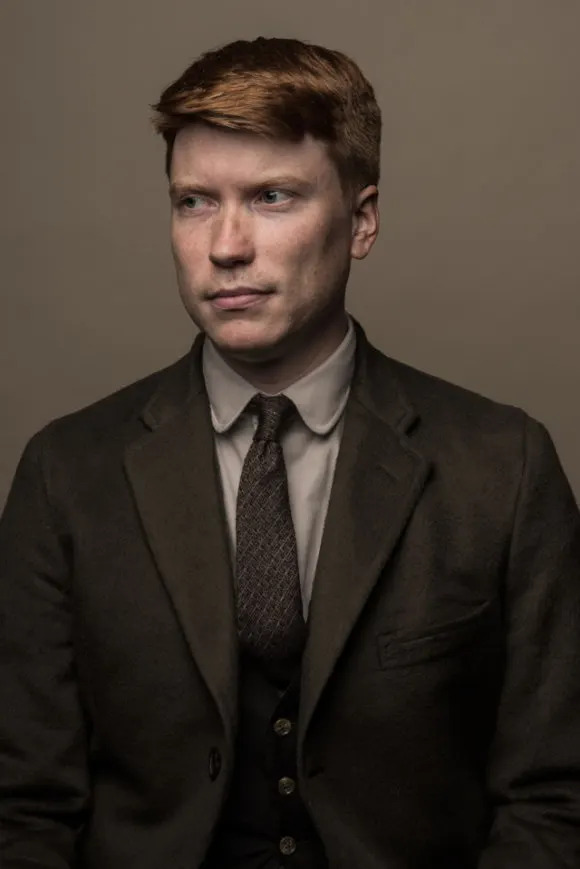 On par with the outfit in forest green tones, dark browns provide a nice contrast to your light coloring. Look for cool, rich, saturated browns and try to avoid those in heavy red tones.
Same goes for the brown tie, preferably in saturated dark tones.
Dark grey anthracite outfit
A charcoal gray outfit is perfect for a more formal occasion, like a ceremony.
The dark gray, paired with an ice shirt, produces a commendable contrast to a gorgeous copper hairdo.
A tie in shades of black/grey and a patterned grey/ice pocket square complete the elegant outfit.
La cravatta sui toni del nero/grigio e un fazzoletto da taschino grigio/ghiaccio a fantasia, completano l'elegante mise.
The best colors for those who have red hair
ultima modifica:
2022-05-01T10:48:07+02:00
da
---
Nota: talvolta, le foto inserite nei nostri articoli di blog sono solo illustrative, disponibili in rete. Laddove possibile, inseriamo i riferimenti a dove poter trovare i capi simili a quelli indossati.