This post is also available in: Italiano
It often happens that, even in spring and summer, many men go to the office in dark suits: anthracite, brown, gray etc.
It happens, because the idea of masculine elegance is usually assigned, for convenience, to dark tones. And in the office you want to be flawless, you don't feel like (and time) to have any doubts.
Below I offer 4 ideas of dress and accessory combinations in saturated, sunny, spring-appropriate hues that will brighten your look and look great in the office.
1. Blue-turquoise suit and floral tie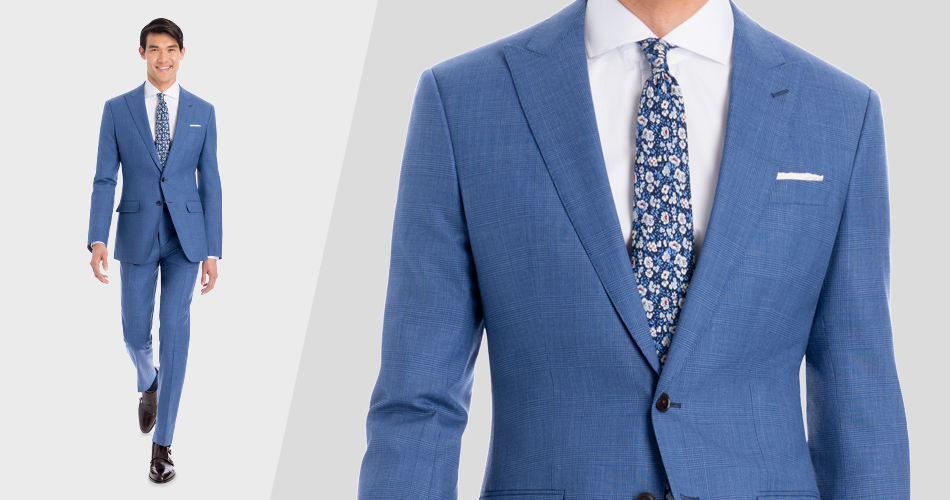 Turquoise is a sunny color reminiscent of tropical seas. Oddly enough, there are still few men who consider such a hue suitable for the office.
Worn in combination with a saturated white shirt and a floral tie, you will be able to go anywhere without overdoing in eccentricity, standing out in elegance. Just enough to get noticed.
A plain white pocket square handkerchief in the jacket pocket will dampen, in just the right amount, the otherwise barely whimsical momentum.
2. Light gray suit and lavender tie
The color lavender often turns men's noses up because it is associated with pink, a feminine color that "offends" their…masculinity!
This lavender tie, combined with a light gray suit, stands out and beautifully enhances a man's features and is perfect in the office.
With dark hair and tan…it rocks! But graying hair is obviously fine, too.
3. Navy blue suit and orange tie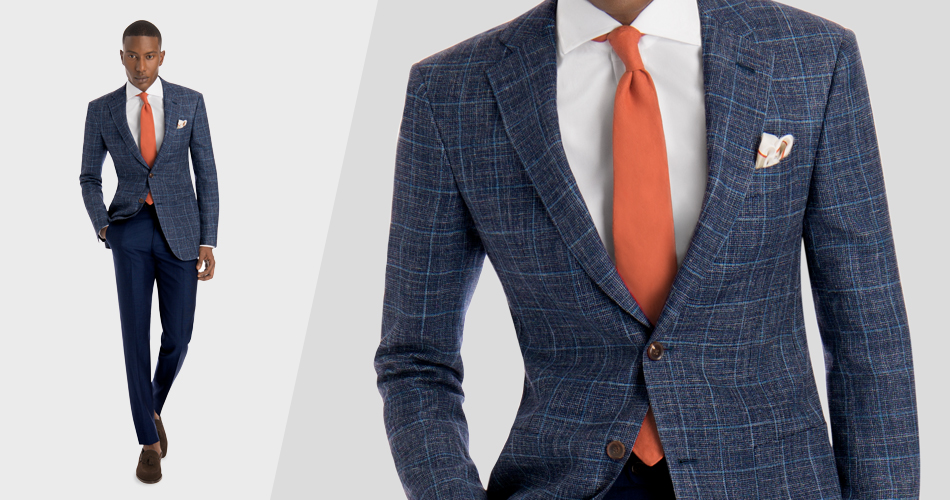 Intense, bright and saturated colors such as yellow, orange are unfortunately excluded from many men's wardrobes…what a pity!
Yes, because plain yellow, ochre or deep orange/rust ties, combined with a dark navy blue color of a suit, are foolproof and in the office lend elegance and a light, spring-like tone.
The key point that makes this combination win is contrast: if your skin is quite or very dark, as well as your hair color, the high-contrast yellow accessory and dark blue dress color scheme will make this look perfect.
Complete the outfit with a precious handroller pocket square that contains a discreet hint of the tie's hue.
4. Beige/blue suit and pastel tie
The combination of light blue and brown has something very sophisticated about it. As the warm weather approaches, lightening up fabrics and colors by declining them in pastel and earthy hues is definitely staying on the mark.
Perhaps because they recall the colors of sand and surf. But whatever the reason, it works.
Opt for fabrics such as linen, raw cotton and surprise everyone with a very elegant dark pocket square dot clutch. A raw-looking regimental tie perfectly combines the trade-off of elegance and restraint, making it unparalleled in comparison with your colleagues in the office.
They are perfect colors with dark brown hair and contrast beautifully with light blue or sugarcane shirts and ties, really making the whole look stand out.
4 color combinations to run to the office always stylish, even in spring!
ultima modifica:
2022-05-16T09:40:00+02:00
da
---
Nota: talvolta, le foto inserite nei nostri articoli di blog sono solo illustrative, disponibili in rete. Laddove possibile, inseriamo i riferimenti a dove poter trovare i capi simili a quelli indossati.