This post is also available in: Italiano
This is it, spring is finally here. And with spring a little bit we all also wish for new air to come, maybe something to renew our appearance.
I have some news reserved for my reader friends.
Women's black DM Ties: there is air of spring
Today I have some good news for my reader friends, coming right in with spring to freshen up our looks: it's the new women's tailored DM Ties!
Isn't it a wonder? 😉
Many of you privately have asked me this question:
At DM Ties do you make neckties for women?
The answer is yes, friends. In traditional tailoring, in fact, anything is possible.
The quality is the same that has characterized our workshop for almost thirty years. And the same are also the hands that create each item.
The only thing that changes, with this women's tie, is the direction of our gaze: no more stereotypes, only style and quality declined to your way of being.
The women's black tie DM Ties: details
The new women's DM Ties at the moment is available in only one color: total black. And later you will understand that it is also an extremely trendy choice.
We have a dedicated Women's Ties section in the works, on our online Store, where you can choose colors and patterns that are sure to arouse interest. I will keep you updated!
The standard women's tie, in general, is smaller than the men's version: the blade is 6cm wide (vs 8cm men's) and the length is 135cm (vs 148cm men's).
These are also the measurements of the new women's DM Ties, called Calista.
We make it completely by hand.
If you want, you can purchase it by conveniently paying in 3 installments without interest by choosing Klarna as your payment method.
We have given it the brand name Zazà (the other DM Ties brand is Don Mimì), because of the dandy character that this accessory lets off: a stylish, fashionable tie for a style that places a lot of importance on one's appearance, good taste, at times intellectual.
Calista is made of pure printed silk and is currently available online only in solid black.
But let's come to why the title of this article mentions that the women's black tie is the trendy accessory of this 2023.
Paris Fashion Week 2023: the Valentino Black-Tie
Open this link…and tell me if you too are not bewitched by what you see….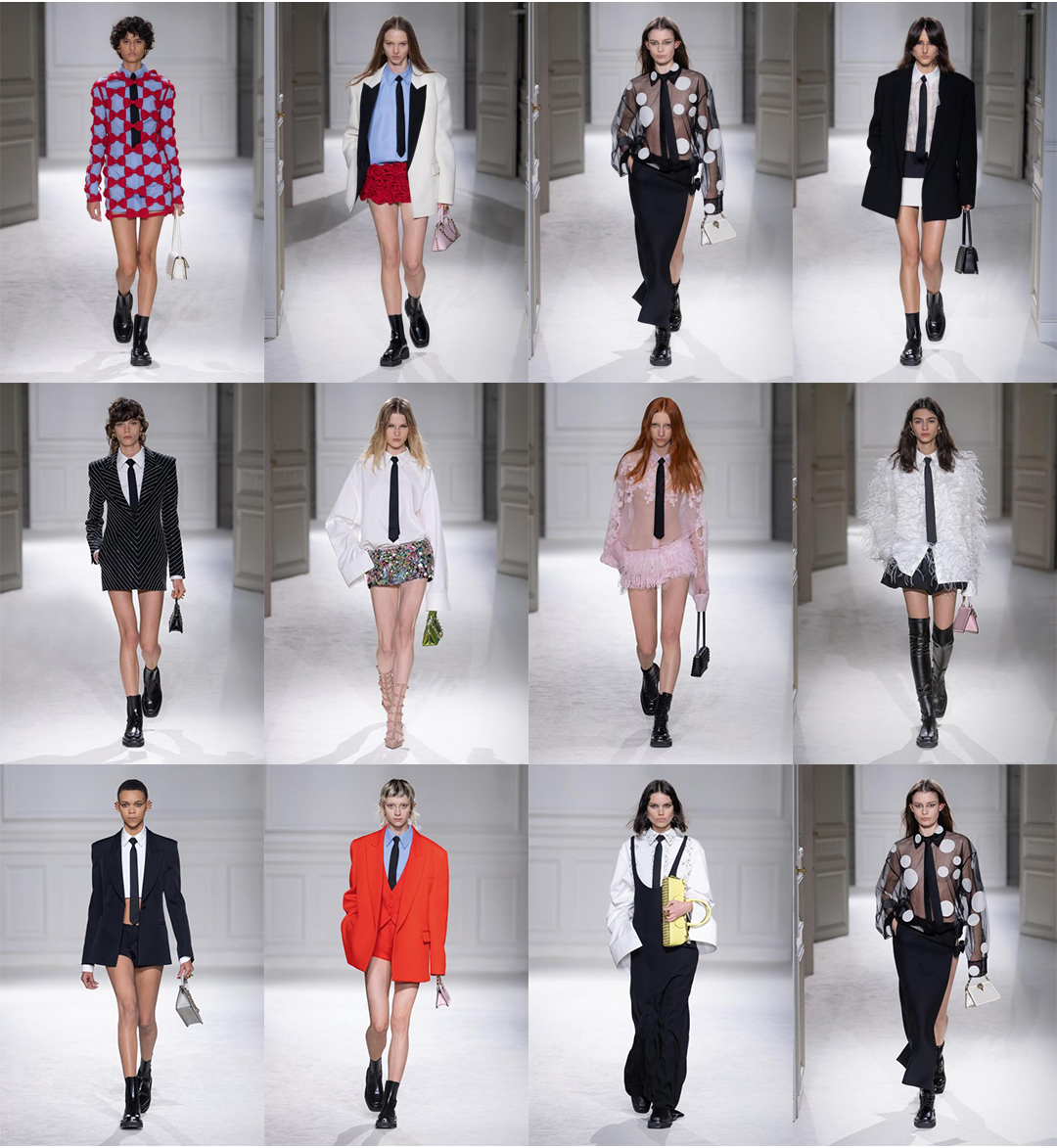 I was totally enraptured!
Womenswear ready-to-wear Fall-Winter 2023-2024, at Paris Fashion Week, for me is something crazy!
It has been a long time since I have witnessed something so innovative, inspiring…and even replicable!
The idea comes from Pierpaolo Piccioli, who introduced a black tie in every type of women's garment.
It's about time!
The Black Tie recoded: the tie that overturns gender stereotypes
Valentino's new collection, titled Black Tie, has made the masculine work accessory into a feminine evening tinsel.
In short, Pierpaolo Piccioli frees (finally!) the tie from all stereotypes, saying:
A symbol, in the social ideal, of masculine power declined and fused within ultra-feminine symbolic garments and, even, in the symbolic dress par excellence: the wedding dress.
She imagined it on elegant dress, whether short or long.
Between the ruffles of the shirt
Where in our conventional code the tie goes with a plain shirt, the designer has changed the rules by making room for ruffles that accommodate the tie and accompany it on its descent.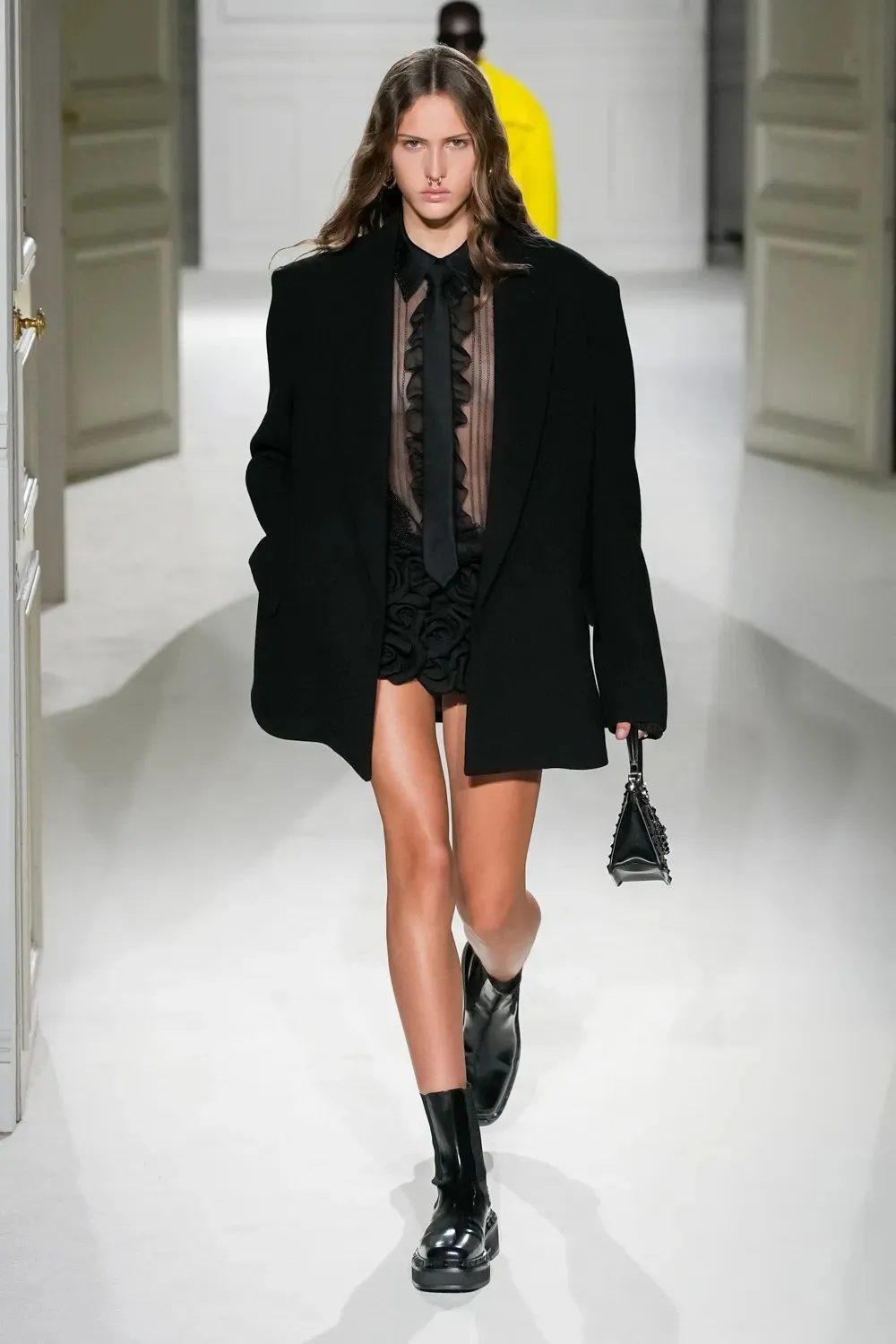 Contrasting the fun mood of a coat or jacket with an exuberant cut or color comes the black tie, which on this occasion becomes the bearer of seriousness.
In the pink and graceful universe of tulle, a black tie can also pop up to lend a touch of impenetrable mystery.
Tie on long skirt…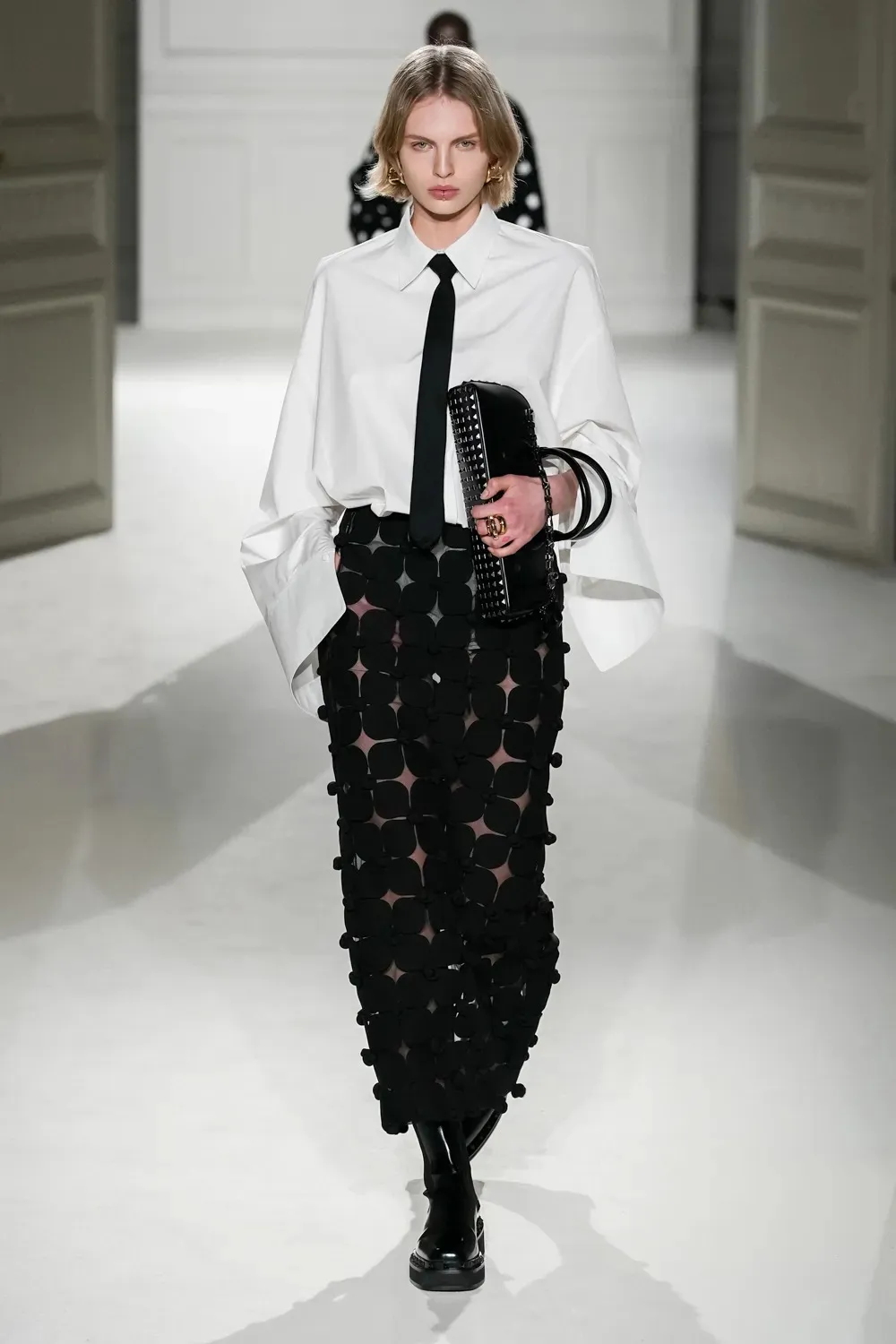 A play of lengths between the more formal and rigid upper part and the more fluid and light lower part, with the black tie joining vertically with fluidity.
…or on sweater
The crewneck sweater is the must-have piece in everyone's closet now enhanced by the tie.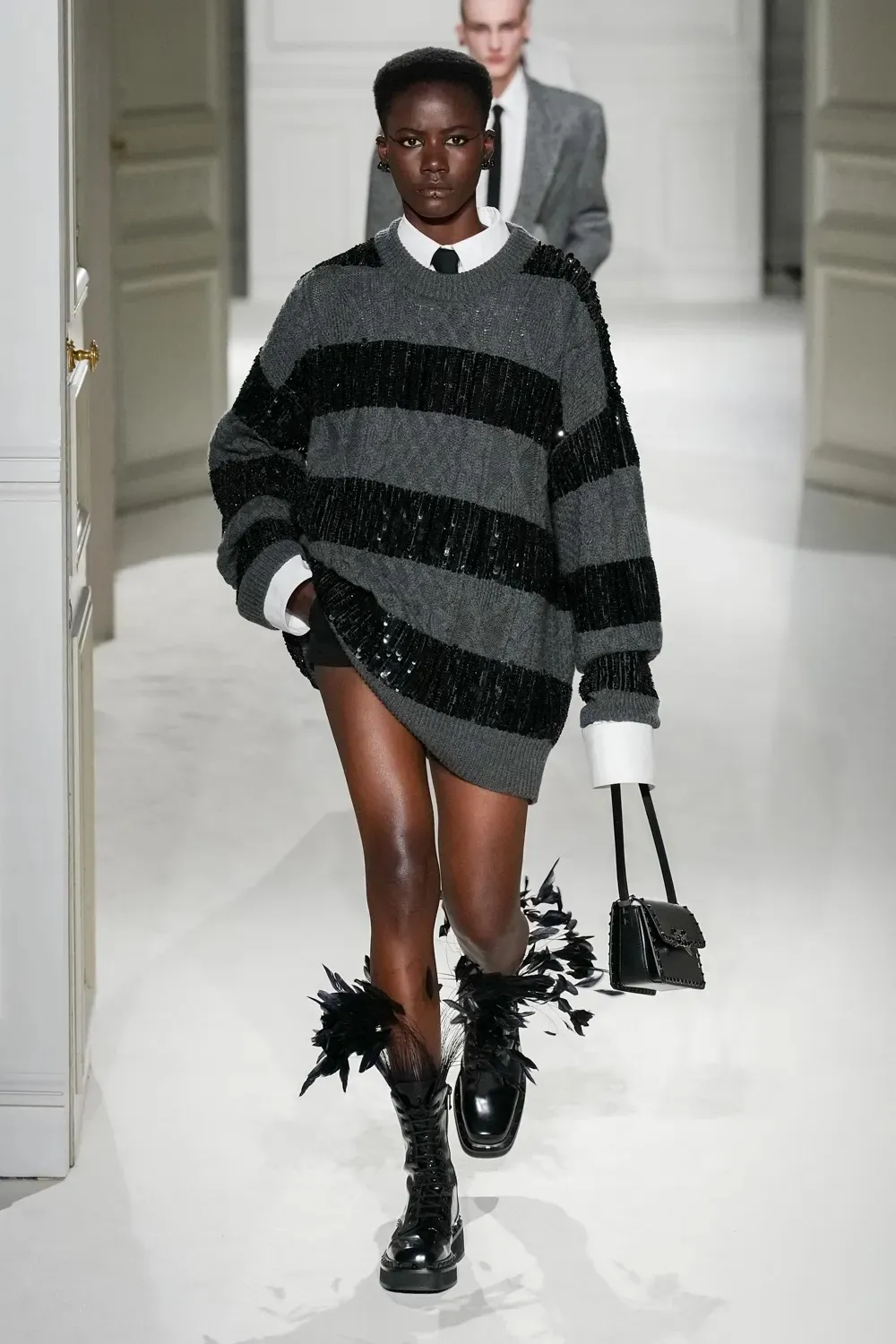 On top of it or hidden under its shirt, the accessory becomes the means by which to make the look much more interesting.
On wedding dress!
In this ingenious catwalk obviously could not miss the twist, and never would I have imagined seeing a tie on a wedding dress.
More than applied, it is the tie itself that appears on bare neck and then transforms into a gorgeous dress in total white with meters of fabric flowing over the body.
I mean…girls…so much stuff!
Now run out and buy one of our Black-Tie!
By leaving a comment on this post, immediately for you a discount code -15% to buy a handmade women's DM Ties, save money!
Women's fashion trends: black tie is the accessory of 2023
ultima modifica:
2023-03-22T17:46:14+01:00
da