This post is also available in: Italiano
Can a traditional tie get along with a leather garment?
Have you ever asked yourself this question?
While you're thinking about it, Louis Vuitton in its recent fall-winter 2022/23 runway show made this unusual mix a truly stunning, fresh and innovative look.
This, proposed by the French company, is an interesting solution to renew our appearance quite easily. Changing one's appearance from time to time is important because it means being sensitive to the passing of time, never taking it for granted by giving it, rather, value and beauty.
The "game of change" of fashion
Putting two elements together is a choice based on technical elements of insiders' expertise. But one of the key ingredients for success remains the gamble, the courage and the thrill that your choice will work.
And Louis Vuitton certainly doesn't lack that.
Evidence of this is the military jacket, tie, and leather pants combined together in the fall winter 2022/23 runway show: it seems they have never gotten along so well.
Then again, for dressing well, there are no precise, universal rules. Nor should there ever be any.
But how to dress well?
The variations for dressing well are endless, and it all depends on one's physicality, taste, usage, fashion of the moment, and a host of other personal factors that are imperceptible and complex to decipher.
To understand what works for each of us, it is good to start with realizing what we like and what makes us feel good and comfortable.
A great exercise can be to take a parade photo as a starting point. Look closely at how it was assembled, layered, and what combinations and details make the difference.
In fact, very often these are simple but strategic expedients that are perfect for us to replicate and adapt.
"Louis Vuitton" inspiration for an unusual masculine look
The latest unusual look with an androgynous bent, proposed by Louis Vuitton, with leather pants and military jacket is a good inspiration to change our look.
The unusual outfit you see in the photos consists of a military jacket, shirt, tie and leather pants: it's a seemingly contrasting mix that instead works beautifully. Perfect for these autumn days, both for work and leisure.
Each element of the outfit has its own character: the military jacket looks so much like a bomber jacket, with beautiful knit cuffs, insignia and zippers, in a very appropriate neutral sand color.
The shirt is classic, as is the regimental striped tie.
The adopted regimental tie has the important role of bringing color to an otherwise somewhat too basic-toned outfit.
Leather pants make a real difference: high-waisted and loose-fitting.
An absolutely comfortable outfit, simple and classic, with a perfect balance characterized by a fresh and new style, inspired, as creative director Nicolas Ghesquière explained, by the way teenagers dress and their taste for mix'n'macht that is never banal.
Tie + leather, in multiple variations
Nicolas Ghesquière wants us in ties. And who are we to disagree?
Following this concept, other styling ideas were seen at the Louis Vuitton fashion show, combining fabrics differently: that is, with a leather blouson, choosing velvet or printed fabrics for pants instead.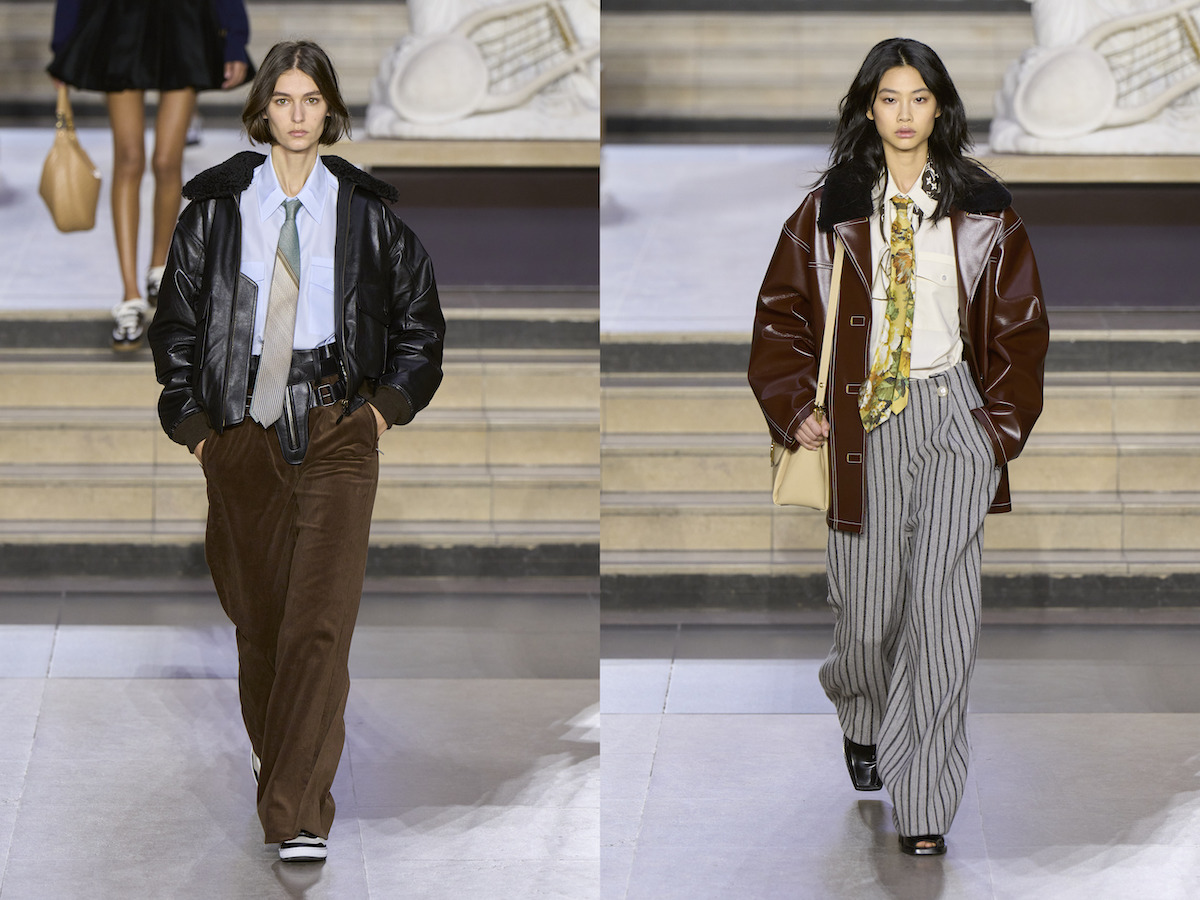 For a more contemporary look, in this case, the advice is to combine typical fall nuances with subtle pastel hues.
And to let the imagination run free with the tie.
Tie + leather: an inspiring mix'n'match
ultima modifica:
2022-10-06T09:52:39+02:00
da